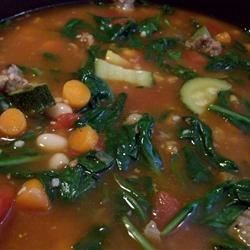 Tonight we tried out a
new recipe
and it was DELICIOUS! I got it from my favorite online recipie site,
All Recipes
. I enjoy sausage and I find it adds a little "pizazz" to my cooking.
Here it is:
INGREDIENTS
3 sausages (I use Mild Italian)

2 clove garlic, minced
2 (14 ounce) cans beef broth
1 (14.5 ounce) can Italian-style stewed tomatoes
1 cup sliced carrots
1 (14.5 ounce) can great Northern beans, undrained
1 small zucchini, cubed
1 cup spinach (frozen)

1/4 teaspoon ground black pepper
1/2 cup of pasta

DIRECTIONS
I like to boil my sausage to get rid of alot of the fat, so boil them first. Then throw it in a stockpot or Dutch oven, brown sausage with garlic. Stir in broth, tomatoes and carrots, beans, spinach and season with salt and pepper. Reduce heat, cover, and simmer for atleast 30 minutes.

Cook pasta as per directions


Add zuchinni and the cooked pasta for 10 more minutes.